Bring Focus and Momentum to Your Job Search by:
Taking Stock of your Skills and Talents
Developing a Powerful and Focused Resume

Learning Effective Networking Techniques

Conducting a Successful Job Search

Promoting Yourself Through Effective Communication
Meet Eileen Sharaga!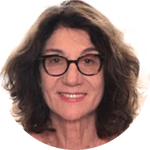 Eileen Sharaga is a recognized authority on career development and employment trends. As a career counselor, psychologist, and educator, Ms. Sharaga helps people choose, change, and advance their careers. Having both a psychological and business background, she provides a unique perspective into navigating today's complex career issues.
Ms. Sharaga is an advanced Myers Briggs practitioner and specializes in career transition and self-assessment. She is a source for media, and has been featured in The Wall Street Journal, The New York Post, and the New York Time and has appeared on Fox News, Working Today, and The Doctor Show on Sirius Radio.
Please Note: Students who began their studies at GST in Fall 2016 or later are required to attend a minimum of 2 career nights, in order to graduate.
Classes will be canceled for Career Night so that all students can attend. RSVP required to attend. RSVP deadline is February 23.
If you have any questions, please contact Robert Grosberg at robert.grosberg@touro.edu or 212-463-0400, x5496

500 7th Ave, Room 415
New York, NY 10018