Finding a job right now, whether you are still a student, whether you have recently graduated, whether you've already worked and are looking for a new opportunity can be difficult in this day and age, especially in light of the Covid-19 pandemic. Learn from an expert on how to navigate your way through the today job-hunting process, which is very different from what job seekers experienced 9 months ago. Even if you are gainfully employed, learn tips that will help you when you are ready to seek employment.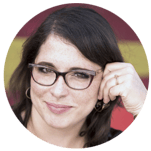 Join the Touro College Graduate School of Technology as we present our Career Night on Tuesday, October 20th at 5:45 p.m., with special guest speaker Dana Leavy-Detrick, resume expert and founder of Brooklyn Resume Studio, a career consulting and personal branding firm.
An expert in her field, Dana has helped thousands of professionals in areas like marketing, design, technology, fashion, sales, and finance navigate career transition and develop high-impact marketing tools.
At GST's Career Night, Dana will provide you with a multi-layered presentation:
An overview of the current job market

Key tools and strategies job seekers need to have in place right now to get ahead.
Specifically, Dana will discuss resumes, cover letters, networking/LinkedIn, and interviewing in this age of remote job searching,
…and much more!
There are no GST classes on Career Night so that you are able to attend. Students who began their studies at GST in Fall 2016 or later are required to attend a minimum of 2 career nights, in order to graduate.
If you have any questions, please contact
Robert Grosberg
Executive Director of Administration
212-463-0400 x 55496
robert.grosberg@touro.edu

Online via Zoom