Design Thinking: A Brief Introduction to The Creative Problem Solving Methodology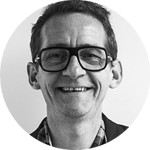 Using the Design Thinking methodology, Don Buckley will lead teams through the creative problem solving process and demonstrate how a combination of mindsets and methods are key to solving difficult problems.
Don Buckley is a design thinker, innovator, and educator who uses design to create innovative solutions in education. He is the co‑founder of Tools at Schools, faculty at Teachers College Columbia University, an author, public speaker and workshop facilitator. Don lectures and consults internationally on design thinking, maker spaces and innovation in education.
Registration Fee: $20
Students and Alumni: FREE. Please contact Nataliya Klymenko at 212-463-0400 x5319 or nataliya.klymenko@touro.edu for your fee waiver.
Register by February 23
Seating is limited.
For more info:
Call: 877.669.7227 or email: info.gst@touro.edu
Tuesday
6:00 PM – 8:00 PM



27 West 23rd Street
Room 534
New York, NY 10010